Big update on new releases, remixes, a movie and colabs

* First of all, my latest original release on Loverush Digital is going to be Stars Collide with Femke on vocals. My first collaboration "Summerfeeling" with Femke went to #10 in the UK Club Charts last summer and this release is going to be amazing as well with remixes by Loverush UK!, Tom Noize, Avatar One and Timothy Allan. The package will be released at the end of August. You can hear my original mix in my myspace player.

* Furthermore, the re-release of Fountains of Youth by Loverush UK! ft. the amazing vocals of Molly Bancroft on SeaToSun Records went to #2 in the UK Club Charts and #2 in the DMC Update Club Chart last month and includes a remix by me as well. The track was #2 in the US Billboard Club Chart Breakers ready to storm the official US Billboard Club Charts the coming months!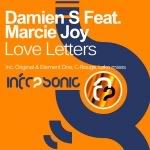 * Another big original release in August will be Love Letters with vocals by Marcie on Infrasonic Recordings. My latest release "Love Me And Leave Me" with Marcie on Loverush Digital went to #7 in the UK Club Charts in April this year. The package contains brilliant remixes by Element One, C-Rouge and DJ Leko. Check out this amazing video with the original mix and the C-Rouge mix on YouTube. More details about the release on Infrasonic Recordings.
* Furthermore excerpts from two of my tracks "Summerfeeling" and "Stars Collide" with Femke on vocals will be featured in a movie called "Rampage" that has been produced in Hollywood. It will probably be out on DVD next year.
* As an extra special treat I've been working on some acoustic versions of some dance tracks set to be released on Loverush Digital. Expect an acoustic version of my original "Stars Collide" out in August – listen to the track exclusively at the end of Anji Bee's excellent Chillcast #172. But you can also expect an acoustic version of "Confide In Me", the new original release by Kinky Roland ft. Alex Sun Drae. The releasedate will probably at the end of the summer and you can also expect a proper club mix by me of course 🙂
* And last but not least I have been working with the amazing San Francisco based 'pop-noir' band Under. The Morgan Page remix of 'Under' was featured on ABC TV show 'Ugly Betty" and CBS/ Sci-Fi show 'Moonlight'. Check their latest release More Pleasant Grey in the mean time.
That's all for now on this big update, hope you like the new tracks and thank you all for your support!
About Damien S
DJ and producer Damien S surprises with his typical floating, warm and energetic blend of vocal deep house and progressive tracks in his DJ-sets. Five of his releases have reached the top 10 of the Music Week Club Charts in the United Kingdom. »
Read more